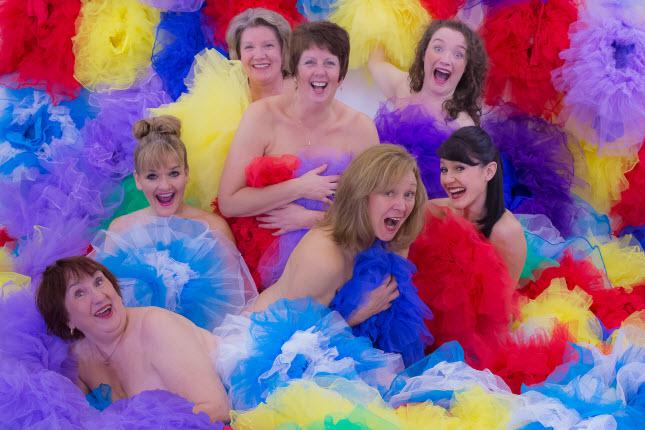 "TuTu Much!" – Charity Calendar for Royal Academy of Dance
Image by Leask Photography
---
IRENE LANGLANDS M.B.E.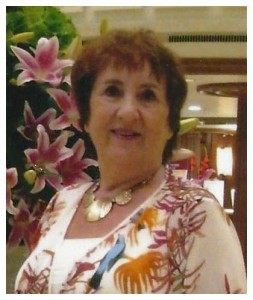 Registered teacher Royal Academy of Dance, Dance Therapist Diploma (Margaret Morris Movement) and Teacher Certificate.
Irene started dancing in Prestwick at 2 ½yrs. On moving to Larbert, danced with the Warner – Karen School of Dancing in Falkirk, where she won a Royal Academy of Dance Scholarship for Junior/Senior Associate scheme in Edinburgh. While at dance college in Glasgow she started dances classes in Larbert, which has grown into the Stenhouse School of Dance.
During this time Irene danced in summer shows around Scotland and on TV with Scottish Television appearing with Andy Stewart, Jimmy Logan, The Alexander Brothers etc… She was offered several dance shows abroad but decided teaching was what she wanted to do.
Irene choreographed many of the local amateur musicals with Falkirk, Falkirk Bohemians, Bo'ness and Bathgate Societies as well as in Glasgow and Edinburgh. She was also choreographer for Falkirk Youth Theatre and for 32 years, for Falkirk Children's Theatre.
Irene has trained many children over the years who have successfully passed the Royal Academy Ballet graded and vocational examinations, who have won Junior and Senior Dance Championships at Scottish and International Dance Competitions, who represented Scotland and won, the Jesse Matthews Choreography Competition in London; who have appeared in West End shows in London taking main roles or as part of the ensemble, and who are teaching or dancing all over the world.
For sixteen years Irene was the Chairperson for the Scottish Region of the RAD and in 2005 received the President's Award for her work for the RAD and dance in her region. In 2011 Irene received an MBE from the Queen at Holyrood for services to dance and charity in the Central Region
Irene continues to run the Stenhouse School of Dance with her excellent team of teachers. Her favourite saying is "How do you spell CAN'T ? Answer T R Y".
LISA AMBROSE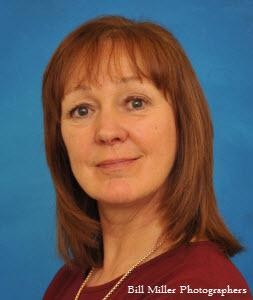 Lisa Ambrose is a former pupil of Stenhouse and has been a member of staff from the age of fifteen. At Stenhouse she is responsible for teaching the ISTD (Imperial Society of Teachers of Dancing) Modern and Tap syllabi, is qualified to teach up to Advanced Level and holds Licenciate status in both genres. Lisa has also designed her own programme of development for the DanceMix classes and holds Fellowship status in the ISTD Dancesport faculty which incorporates Disco Freestyle.
Other experience includes choreographic work for various theatrical organisations and has worked on shows such as: Hello Dolly, Fiddler on the Roof, Cabaret, Fame and local children's and youth theatres.
Lisa is regularly asked to lecture locally and Nationally and has worked for the ISTD at several National congresses and for the RAD (Royal Academy of Dancing) and the BATD (British Association of Teachers of Dancing) at various summer schools.
As a youngster Lisa appeared on TV in Cabaret with Falkirk Youth Theatre and was also a finalist in the World Disco Dancing Championships. She also performed throughout Scotland with her own dance group called "Images".
Greatest achievements!…. Organising and producing a "secret" Gala with 600 guests and over 300 performers to mark 40 Years of Stenhouse School of Dance. This was a "surprise" for principle Irene Langlands.   Creating dance group "Tartantastic" who were featured on Sky 1 "Got To Dance" and more recently, appeared at the Royal Albert Hall, London in "Dance Proms '14".
Lisa enjoys bringing the joy of the experience of dance to all ages. Her aim is to have Fun, capture the class's Attention, and get some Commitment, Technique and finally Satisfaction. These are the FACTS on which she bases her teaching.
RUTH BRAMMAH M.B.A.T.D.
Ruth began her dancing career at the Maureen Law Theatre School in Sheffield at the age of three, specialising in acrobatic, ballet modern and tap. She completed in various dance competitions winning many dance trophies including the prestigious Sheffield Acrobatic trophy four years running. From the age of ten, along with four other acrobatic dancers from her dance school, she was touring the country, including performances at the Tower Ballroom, Blackpool, demonstrating the brand new acrobatic examination syllabus. Ruth has made several appearances on the TV show "Junior Showtime".
BETH ROBERTS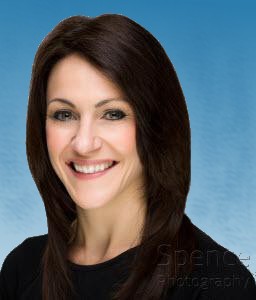 Beth is originally from North Wales and has been dancing, acting and singing since an early age. She trained at Arts Educational School London where she graduated with a BA (hons) Degree in Musical Theatre.
Beth recently performed the role of Amber in HAIRSPRAY (Aberystwyth Arts Centre)
Other theatre credits include:) Gertie Cummings as well as understudying and playing the role of Ado Annie in OKLAHOMA! (UK Tour) Swing and performing the role of Alice in SEVEN BRIDES FOR SEVEN BROTHERS (UK Tour) Lisa in FAME (European Tour), CHILDREN WILL LISTEN (Theatre Royal, Drury Lane, London) Satin in MOULIN ROUGE(Scotland) and a World Cruise with The Theatre Company on board the Aurora for P&O Cruises. Pantomimes include: Princess Jasmine Aladdin (New Brighton and Theatre Royal Bath), The role of Cinderella (Lowestoft), Cinderella (Swansea), Jack and the Beanstalk(Llandudno), Robin Hood and the Babes in the Wood (Malvern), Aladdin (Rhyl).
Beth has been teaching Musical Theatre and choreographing for many years she currently teaches at Dance for all, MGA School of Performing Arts, Stenhouse school of dance, and Stagecoach Edinburgh.
ALISON SWAN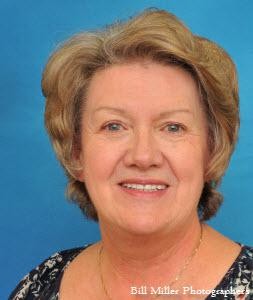 Mrs Alison Swan joined Stenhouse in 1967 as a young pianist for a few ballet classes. She was given more and more classes to play for and is now the main pianist for the ballet, modern and tap classes as well as playing for the dance exams.
She was such a help in other aspects of the classes that she was asked to do more and more and she now helps Miss Langlands with the administration of the School. Her friendly but no nonsense approach as well as her organizing and bookwork skills sees her dealing with staff, pupils and parents. Miss Langlands says the worst job must be the running of the backstage at dance displays but Alison does this with great ability and patience.
There is not a job Alison has not done at Stenhouse and is a very much valued member of the 'Team'.
Principal:
IRENE LANGLANDS M.B.E.

Diploma of Margaret Morris Movement;
Registered Teacher and Life Member with the Royal Academy of Dance;
Graduate and Teacher of the Celtic Ballet College;
Teacher's Diploma in all branches of Stage Dancing;
Dance Therapist and Choreographer.

Teachers:
LISA AMBROSE F.IS.T.D.(Dance Sport)
L.I.S.T.D. (Modern Theatre and Tap)
RUTH BRAMMAH – M.B.A.T.D. (Acrobatic)
BETH ROBERTS – BA (Hons) Musical Theatre
LAINIE BAIRD
ASHLEIGH MCGEORGE – A.I.S.T.D.(Dance Sport)